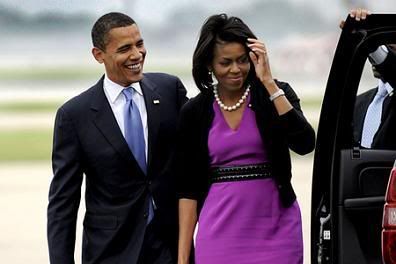 TODAY:
As you know, we are now in the week of the blue party. The reported theme of this Monday night of the Democratic National Convention is "One Nation." I'll be watching House Speaker Nancy Pelosi and Congressman Jesse Jackson III, among others, deliver speeches tonight.
It's basically the first big night at the convention, and it's looking like "family night." Maya Soetero-Ng, Senator Barack Obama's sister, and Craig Robinson, his brother-in-law, will both take the podium at some early point of the evening. Then, the next First Lady of The United States of America, Mrs. Michelle Obama, will be at center stage as the night's headliner at the Pepsi Center of Denver, CO. Obama has a beautifully diverse family. Just wanted to say that.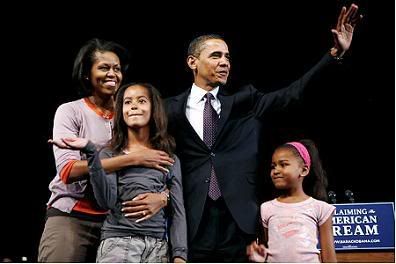 Oh, and check this out...
The schedule includes a surprise speaker, Republican Iowa Sen. Jim Leach, a moderate who broke ranks with his party this month and endorsed Obama.

SOURCE: US NEWS & WORLD REPORT
That's a good look, because the Republickins are certainly going to bring out Senator Joe Lieberman, who is a traitor to the cause. Can you believe that this guy was actually the Democratic VP nominee under Al Gore in 2000? What a dewshbag.
Senator Edward Kennedy will also be honored at the convention. He is already scheduled to appear and is rumored to be speaking. That would be a big boost for the Dems, who love Teddy Kennedy like a fairy Godfather.
In the meantime, candidate Obama will be
BACK IN IOWA TODAY
, reminding the residents of the state that he appreciates the fact that they made this whole week possible. Without them, it would be a Clinton event. Thanks to their vote, history will be made. Obama will arrive at the convention after the debt of gratitude is paid. Don't mind my enthusiasm, but this shit
is
exciting if you're into politics.
On the Republickin side, McCain will be on TV tonight, trying to steal some viewers with his geezerly posture. He is going to be wheeled in on a gurney to The Tonight Show to talk with Jay Leno about his colonoscopy, blood pressure and amount of Levitra it takes to make his penis large enough to hold in his hand when urinating. Should be a great show, I guess.