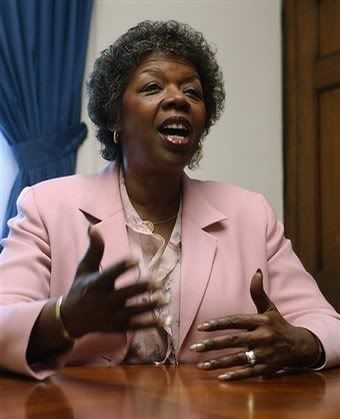 U.S. Representative Stephanie Tubbs Jones, the first African-American woman to represent Ohio in Congress,
IS REALLY DEAD
.
Rep. Tubbs Jones, who was also a member of the House Ways and Means Committee, was considered one of the more reliably liberal voices in Congress. She had a lifetime voting rating of 98 out of 100 on the American Civil Liberties Union's Congressional Scorecard. In 2003, she was one of 11 House members to oppose a resolution supporting the U.S. invasion of Iraq.

SOURCE: THE WASHINGTON POST
It can't be easy to be a black woman with political responsibilities in Washington, D.C. I can imagine one of my friends' mothers, or even my own, trying to work in an environment where you have to constantly push against a concrete dam of injustice to get even the slightest progress for the underprivileged. It seems like it could drive even the bravest soul to silence when you're always in the unseen minority.
Rep. Tubbs Jones did not let her skin color dictate her trajectory in the Congress. She worked extremely hard and had several important achievements, which you are more than welcomed to
SEE FOR YOURSELF
on her House website.
For her final encore, here is Representative Stephanie Tubbs Jones putting a CBS News reporter in her place for trying that pop-up-on-your-ass journalism trick. Old girl looked like she was a second away from what I call "the clap-slap."
R.I.P. Mrs. Tubbs Jones. I respect your authority.