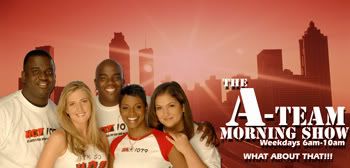 Damn. Like, really damn. I can honestly call Rashan Ali and Emperor Searcy friends of mine. I've known both of them for 10 years, and unlike a lot of people who claim to be in the celebrity circle, I can honestly say that both of them know me. So this is wack as hell to me. But, for the record, "The A-Team Morning Show" of Radio One of Atlanta (Hot 107.9)
IS DEAD.
The A-Team consisted of Rashan, Searcy, Griffy 2 Trillion and... uh... somebody else, I think. But they are long-standing A-town vets who were there since Atlanta began to blow and stayed down to this day. And it is this day, the day that Obama will accept the nomination, that they have accepted pink slips from Radio One. They are being replaced by
THE RICKY SMILEY MORNING SHOW.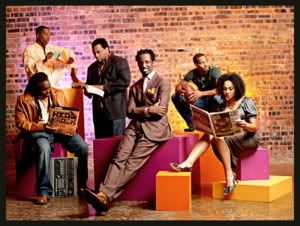 The good news about this is that all three main characters of the A-Team are well situated. Rashan is happily married with child, and I don't see her in a financial crunch. Searcy is a partner in Black Market Entertainment, a.k.a. BME, which is also co-owned by Jonathan "Lil' Jon" Smith. He's not at all poor. And Griff is a great host, comedian and personality in his own right, so I assume that he'll either move to another market or find his way to television in the next 12 months.
But to be honest, with no disrespect intended, the show hasn't been the same since Ryan Cameron left. And from what I hear, Ricky Smiley's syndicated radio show isn't really that good, but I haven't heard it, so you ain't heard that from me. But seriously, I don't expect it to last very long in Atlanta, because there are so many home-grown morning shows here, and this city is too big for something that's not local. Tom Joyner is the exception, like Larry Bird. Ricky Smiley? Nope.
Mark my words; Smiley won't last in Atlanta. But, on another note, why does this feel like the opening night of the Olympics? You remember, when John Edwards announced that he had fathered a bastard love-child and cheated on his wife, who has terminal cancer. In other words, people like to put out bad news announcements when the story is likely to be overlooked because of something much more major. Like the acceptance speech of the first African-American nominee for POTUS by a major political party.
I hate this for "The A-Team", but I love this day in history. And, on that note, I'm about to head to downtown Atlanta, to be with some good people as Senator Barack Obama makes his speech.
Life is good. Light-skinded is back! We are living history. This is crazy. I'm supercrunk. Time to hit the town. God bless America (wow).