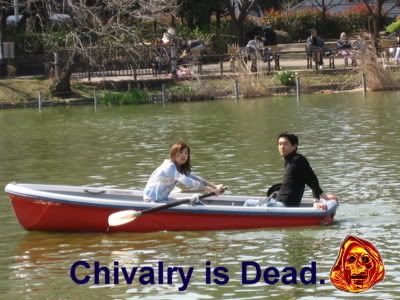 I just found an article on a blog called
THE AFTER PARTY
titled, "
Hip-Hop
Chivalry is Dead."
Wow. A blog after my own heart. Actually, The After Party has been around since December 2005, so I'm obviously late as hell. But I'm adding them to my blogroll, so everything is now right in the world.
Check out a snippet:
Yesterday I made a comment over on VSB about how it's not trickin' if you have it. I initially wrote it as a joke. A few minutes later, I thought about it. I do not trip when I have to spend money. I take pause and give thanks that I can afford to spend. This doesn't mean I'm out medium pimpin' buying things full price…Full price is for suckers. Like I said before when I wrote it first it was a joke. I even made reference to rappers.

On my long ride home I heard the line again in a rap song. I have NEVER heard a man who can afford nice things for himself AND a mate complain about spending money. I want to focus specifically on dating. The topic on VSB was about bitter men. Men who brag about not being chivalrous. The example that was tossed around was how some men refuse to pay for dates or even refuse to plan inexpensive thoughtful dates. Someone over there mentioned six chicken wings. Not a thoughtful date.
Click that link above to read the entire post. I'm off to the Bun-B show, hoe.