I know you know, because everybody knows. For the record, I just figured that we should take a few extra days to remember Bernie Mac first. I mean, damn, two in one week? This reminds me of 2006, when
THIS
happened, immediately followed by
THIS...
But alas, here we go. Isaac Hayes, pioneering soul man,
IS REALLY DEAD
. I needed a minute just to properly process the weight and depth of two separate deaths in the black community. I know, I know; black people die all the time. High blood pressure, blood sugar levels, drugs, AIDS, cancer, strokes, etc. But I don't think it's cool for black people to keep dying at or before the age of 65. And I don't always mean to make things seem so b/w, but these are huge losses for the hood.
I am afraid to wonder if too many people at or below the age of 21 are only going to remember Hayes as the voice of
South Park's
Chef. So let's examine a few of the other achievements and notable moments. He was inducted into the Rock & Roll Hall of Fame in 2002. He is the man who composed and performed the
Shaft
theme, which won an Oscar for Best Original Song. He was one of the main songwriters, producers and session players for Stax Records, the Memphis answer to Motown. He starred in movies, television shows and parodies. He had a charitable organization. He went bankrupt in the late seventies, losing the right to future royalties to anything he had already written or performed. He went through the hell and high water of the industry and persevered long enough to remain an immovable object - a timeless legend. An icon of soul.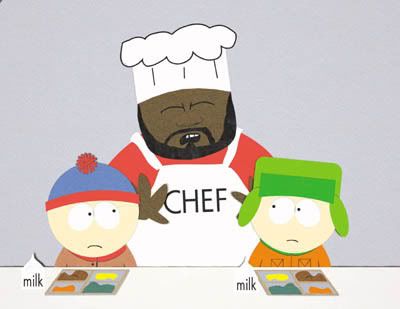 Oh, and by the way, did you know that both Isaac Hayes and Bernie Mac are going to appear, alongside Samuel L. Jackson, in the movie
Soul Men
, which will be released in November of this year? Did you know that people are saying that since "Death comes in threes," another famous black celebrity - this time, possibly an actor - will be next to pass? Maybe they're thinking it'll be Morgan Freeman. Maybe Sam. I choose not to think that way. Maybe those who ponder the death of others should just kill themselves and avoid having to share the earth with those they choose to envy. Stop praying on another man's downfall, please.
And now, for his final encore, here's my favorite song from Isaac Hayes, "Walk On By," which was re-filmed for the movie
Dead Presidents
in 1995.
R.I.P. to Isaac Hayes. This guy was a giant. Oh, and one more thing: If he died worth anything less than $10 million dollars, may his trespassers die a thousand times.