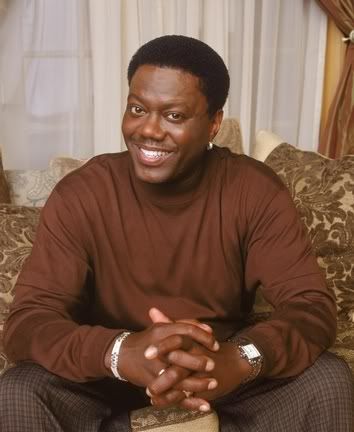 Bernie Mac, a King of Comedy and one of the most deserving recipients of fame in recent comedic history,
IS REALLY DEAD
. Less than a month ago he was opening the show for the next POTUS, Senator Barack Obama, and throwing out some grimy jokes that Obama's camp had to refute. Now, Obama will never get a chance to shake his hand after November 4 and say, "Thanks, Mac." Of course, Mac probably would have responded by saying, "I knew you weren't scared of those motherf*ckers."
Here are some reactionary quotes from celebrity friends who woke up today like everyone else, only to discover that Mac did not join us for breakfast.
George Clooney:
"The world just got a little less funny. He will be dearly missed."

Chris Rock:
"Bernie Mac was one of the best and funniest comedians to ever live but that was the second best thing he did. Bernie was one of the greatest friends a person could have. Losing him is like losing 12 people because he absolutely filled up any room he was in. I'm gonna miss the Mac Man."

Don Cheadle:
"This is a very sad day for many of us who knew and loved Bernie. He brought so much joy to so many. He will be missed but heaven just got funnier."

SOURCE: E! ONLINE
And for a final encore, here is a YouTube of Bernie Mac onstage at Def Comedy Jam, which was the first time I ever saw his comedy act. Dude had me dead from the minute he hit the stage.
R.I.P., Bernie. Hope you're laughing upstairs with Redd Foxx, Richard Pryor, Rodney Dangerfield, George Carlin and everyone else. I'm telling you, concerts in Heaven may be hard to get into, but they're probably worth every minute.
"Throw it up, baby...
It's Brick City, you heard of that,
We blessed and hung low, like Bernie Mac!"
Redman - Dirty (Christina Aguilera)