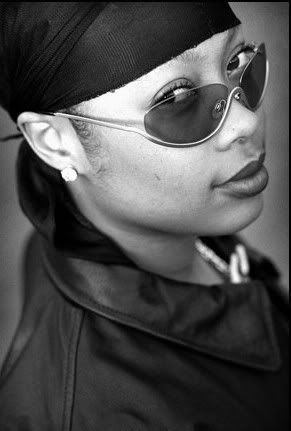 I'm late like a pregnant MILF on this, but just for the record, Da Brat, aka Shawntae Harris, aka Lisa Raye's adopted sister,
IS LEGALLY DEAD.
Ms. Harris, known for being introduced to the Hip-Hop world by Jermaine Dupri as the older sister of Kris Kross and the female answer to Snoop (Doggy) Dogg, was sentenced to three years in prison for assaulting an employee of Studio 72, Dupri's club in
Atlanta
Tucker, GA.
Side note
: The recipient of the bottle to the dome was also an Atlanta Falcons cheerleader.
The rapper and a half-dozen family members all broke down after hearing the sentence.

"I love y'all," she said to her relatives as a deputy hauled her away, the Atlanta-Journal Constitution reports.

"We love you too," her family replied in unison.

SOURCE: US MAGAZINE
Harris is also known as a "good friend" of Mariah Carey. I wonder how this will affect the relationship with Nick Cannon. Better yet, I wonder if Mariah, Jermaine, Lisa or any of Brat's other famous friends will have any pull in getting an appeal. So far, it seems like it's being accepted as the way it is.
For the record, I actually always thought that Da Brat could rip any female artist (nolo). Remember the "No One Else" remix, featuring Lil' Kim and Foxy? Those were the days when women were on the rap music come-up. Now? Well, all three of them can call themselves convicts. Sexy? Not at all.
UPDATE: I'm hearing rumors that the sentence got reduced to a year and a half, and they're trying to get it down to 1 year. Good luck with that. Keep your head up, Brat. And tell J.D. to drop a mixtape or something soon, so the buzz will be sustained.
What buzz?