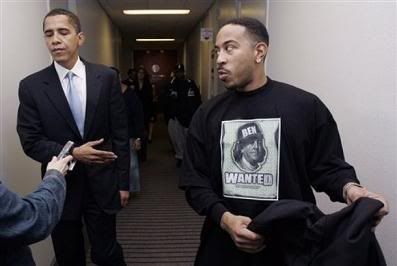 TODAY:
Christopher "Ludacris" Bridges, my former co-intern for Ryan Cameron, is about to take some serious heat for his newest song: "Politics," off his new
Gangster Grillz
mixtape with DJ Drama.
DOWNLOAD THE FREE MIXTAPE HERE
.
While you're waiting for the file to transfer, here are some quick quotes, just so you can see what type of mess people are saying that Ludacris has made, for himself and Obama, with his lyrics.
RESPONSE - THE OBAMA CAMPAIGN:
Through his campaign team, Senator Obama released a statement condemning the song as offensive and typical of much of Hip-Hop's current lyrical content.

"As Barack Obama has said many, many times in the past, rap lyrics today too often perpetuate misogyny, materialism, and degrading images that he doesn't want his daughters or any children exposed to," explained spokesman Bill Burton. "This song is not only outrageously offensive to Senator Clinton, Reverend Jackson, Senator McCain, and President Bush, it is offensive to all of us who are trying to raise our children with values we hold dear. While Ludacris is a talented individual he should be ashamed of these lyrics."

SOURCE: ALLHIPHOP.COM
RESPONSE - FOX NEWS:
In his new song "Politics: Obama Is Here," rapper and staunch Barack Obama supporter Ludacris trashes presumptive Republican presidential nominee John McCain and former Democratic presidential candidate Sen. Hillary Clinton.

"Hillary hated on you, so that b—- is irrelevant. … McCain don't belong in any chair unless he's paralyzed. Yeah I said it cause Bush is mentally handicapped," Ludacris sings.

The Grammy Award-winning rapper, whose real name is Christopher Bridges, also takes aim at the Rev. Jesse Jackson, who was recently caught on video slamming Obama.

"Jesse talking slick and apologizing for what? If you said it then you meant it how you want it have a gut," Ludacris sings, refering to Jackson's off-the-cuff criticism of Obama's speeches on morality at black churches.

SOURCE: FOXNEWS.COM
Do remember also that Obama was recently quoted by Rolling Stone Magazine founder Jann S. Wenner, voicing his support for Ludacris in his July 10 cover story.
Wenner:
What do you think of rap? Has it been unfairly attacked for destroying family values?

Obama:
By definition, rock & roll is rebel music, which means if it's not being criticized, it's probably not doing its job. I am troubled sometimes by the misogyny and materialism of a lot of rap lyrics, but I think the genius of the art form has shifted the culture and helped to desegregate music. Music was very segregated back in the Seventies and Eighties — you'll remember that when MTV first came on, it wasn't until Thriller that they played Michael.

I know Jay-Z. I know Ludacris. I know Russell Simmons. I know a bunch of these guys. They are great talents and great businessmen, which is something that doesn't get emphasized enough. It would be nice if I could have my daughters listen to their music without me worrying that they were getting bad images of themselves.



SOURCE: ROLLINGSTONE.COM
The internet is going nuts (no Jesse). All the commenters and geeks are saying that Luda is stupid. He should know his role. He's hurting Obama with this type of colorful rhetoric. Whatever.
Shout out to Cris Lova Lova;
CONGRATULATIONS
on getting tapped (nolo) for the GA Music Hall of Fame. And for the record, I happen to think that this was a smart if risky move that will ultimately work in both mens' favor. Nobody is changing their vote over a rap song. But Luda deserves some respect for even trying this, especially right after his induction was announced. Think about it; it leverages good and bad publicity right when he has the spotlight. He gets to be honored by a prestigious group, and he gets to retain his hood pass indefinitely. It's not like he's saying anything that every other Obama supporter isn't. He was just bold enough to record it over a Young Buck beat and release it, knowing that Fox News would go ballistic. Brilliant.
Obama can't pretend that Hip-Hop will just let him play the middle forever and not push him to either condone or condemn us. Hip-Hop, like Rock & Roll, is rebel music. And black people, as quiet as it's kept, created both. So he can't expect for those same rebels to keep quiet forever. Who knows; this might be exactly what needs to start happening to keep the Hip-Hop crowd interested and motivated enough to vote in November. Word to Nas; rappers are finally learning how to use politics to promote their projects.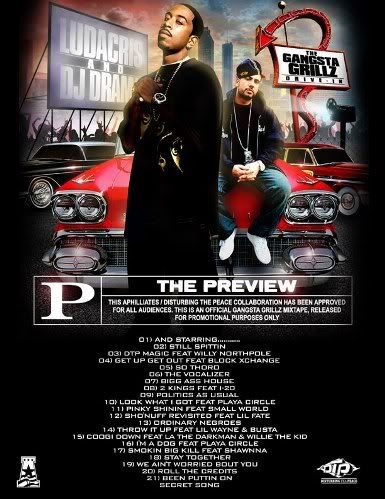 "Hip-Hop... is bigga than religion. Hip-Hop... is bigga than "my nigga." Hip-Hop... is bigga than the government..."
Erykah Badu - "The Healer"