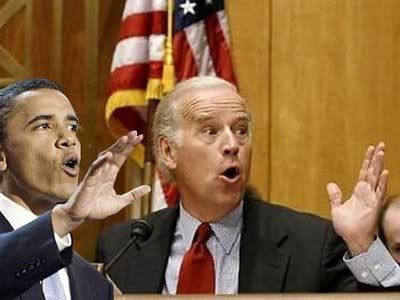 [
We shall Ooo-ver-coooomme! We shall Ooo-ver-coooomme!
]
TODAY:
While everyone agrees that Rick Warren, the evangelical pastor and author of the popular best-selling book,
The Purpose Driven Life
, sandbagged Senator Barack Obama something horrible at the Faith Forum, it is quickly becoming old news.
Senator Barack Obama is expected to name his VP choice between tomorrow and Friday. And look who recently got a shout out during a campaign speech...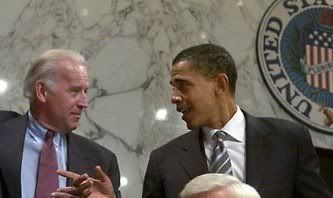 "We must help Georgia rebuild what has been destroyed," Obama said during a speech at the Veterans of Foreign Wars national convention. "That is why I'm proud to join my friend, Senator Joe Biden, in calling for an additional $1 billion in reconstruction assistance for the people of Georgia."

It was only a passing reference to the longtime senator, but it comes one day after Biden returned from a trip to Georgia at the behest of that country's president — a stark reminder of his national security gravitas and deep-rooted relationships with leaders around the world. As the Georgia crisis once again puts national security issues front-and-center in voters' minds, so the Beltway chatter goes, Obama needs a running-mate with foreign policy experience now more than ever.

SOURCE: CNN
I'm telling you; Obama is not about to pick Senator Evan Bayh of Indiana or Governor Tim Kaine of Virginia, because he's just not. Evan Bayh is always running for second place, which is awfully unattractive. And I just can't get down with Tim Kaine's haircut if he wants to be my vice-president.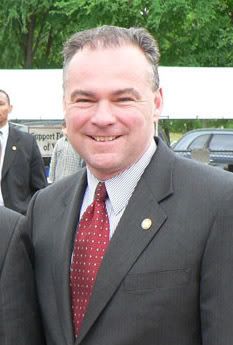 The argument against selecting Biden is that he is an old head of Washington politics. He will be counter-productive to Obama's message of change, since he has been in the Senate for 214 years. He has
POLITICAL BAGGAGE
, and the Republickins are bound to notice and use it against the Democratic ticket.
My opinion? Biden is the best choice. We don't have time to speculate when Russia is still in Georgia, after agreeing twice to pull out. If tensions keep rising like they are right now, Biden can be dispatched at a moments notice. You see he already made the trip to Georgia, by request of the country's president. That's pretty impressive. Nobody invited Kaine or Bayh, because they just didn't want to.
My biggest reason to support Biden for VP is that he will be the new Democratic Dick Cheney. Anytime Obama is too nice to get his hands dirty in politics, Biden will be quick to offer his services. Obama needs somebody who can afford to talk that gangster shit to detractors, Republickins and general political whores. People see him as the shining light of a new day in politics, and a new day can't include such colorful rhetoric such as, "Look, I'm in the White House, and you ain't. So don't interrupt grown folks when we talking. Go play somewhere; we busy over here."
Time is running out. Who wants to bet against Joe Biden? I'm taking all bets until Wednesday night, if Obama doesn't announce by tomorrow morning. Then again, Obama could always pull the suprise of the century and choose the man who knows that America has no limit - a man who really knows how to get the tank rolling ... Master P. Then, P could marry Oprah, and everything would be right with the world.