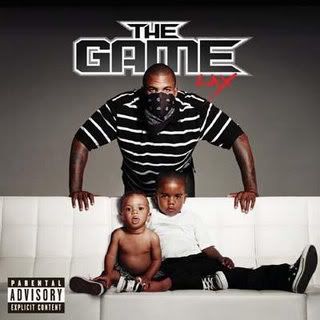 I'm into true west coast gangster rap, because nothing else comes as close to the ugly realities of true life. And though some of you will doubtless disagree, The Game is, in my op, the best representation of Californian g-rap since the days of DJ Quik, N.W.A, Above The Law, M.C. Eiht and Westside Connection.
Tell the truth; Game practically bodied the entire G-Unit movement by himself just out of sheer will. His style has always been sort of the Pacific Coast yin to Curtis Jackson's Southside, Queens yang. Both have always seemed ready to be as disrespectful as necessary to lyrically embarrass their enemies, but when the two turned against each other, Game proved to be the better rapper, if not the smarter businessman.
L.A.X.
continues the process of describing the City of Lost Angels to all outsiders. Like
The Documentary
and
Doctor's Advocate
,
L.A.X.
is heavy on the Dre-inspired soundscape, yet once again Dr. Dre makes no appearance behind the boards on production. In his place, Scott Storch (who needs the money), Cool & Dre, Irv Gotti, Nottz, J.R. Rotem, DJ Toomp, Hi-Tek and Kanye West all contribute some very high-def beats for Game's usual "I'm a Blood" steelo.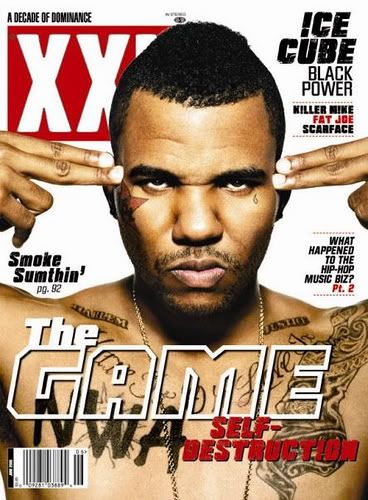 From the moment you hear DMX praying on the "Intro," you get a certain feeling that maybe God really does love the gangsters and vice-versa. X goes in pretty heavy with the prayer, giving the listener the idea that if he ever put down the microphone in the name of rap and picked it back up in the name of Jesus, without picking up the (you name it - pipe, blunt, bottle, needle, car keys, etc, etc...) again, he would probably have a congregation that would go far beyond the spiritual travesty that
your
boy Mason Betha pulled. Very dramatic and strangely appropriate.
From then on, you get what you expect. Game shows off his bounce-flow on "L.A.X. Files," which has a guy with a weird sense of tuning singing the chorus, but somehow it works out. From then on, the guest appearances start to flow in, with 'The Don Mega' Ice Cube showing up on the hook for "State of Emergency," Raekwon the Chef trading verses on "Bulletproof Diaries" and "My Life" featuring Lil' Wayne, which I can't get out of my head. Say what you will about Young Carter, but he can make your song pop if he really wants to, and the T-Pain device works well with him on certain tracks.
I have several favorite songs on L.A.X., and I've only been listening to it for 12 hours. Right now, my choices are "Ya Heard" featuring Ludacris, "Never Can Say Goodbye," "Cali Sunshine" and "Dope Boys," which knocks major. As a matter of fact, the only song I'm not really digging thus far would be the main single, "Game's Pain," featuring Keyshia Cole. Sure, she's fine, but that doesn't mean I have to be a fan. I think she's a little overrated, personally. Plus, I don't get the part that's supposed to be painful. Why didn't they name the song "Homage?" Whatever, I guess. But that doesn't mean I think it was a bad move to put the song out first. Black women love Keyshia, and so does urban radio. Can't call it stupid at all.
"Never Can Say Goodbye" and "Letter to the King" serve as the albums' two best songs for their creativity and depth, where he raps about the deaths of Tupac, Biggie, Eazy-E and Dr. Martin Luther King Jr., respectively. Nas guests on the latter, as well as donating his vocal to the only interlude on the album, "Hard Liquor." "Angel" is another fly one that I played repeatedly on the drive from Atlanta to Birmingham this afternoon. And nobody can deny Chrisette Michelle, so "Let Us Live" wins on G.P. While I'm not crazy about Neo on a Game track ("Gentleman's Affair"), I do like the conflicting message. And let's face it: Game is known for being somewhat schitz.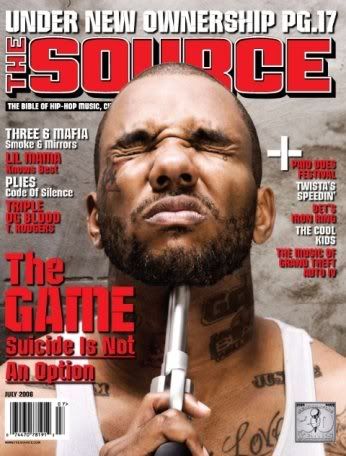 Overall, by the time you get to the 19th track, DMX's prayerful "Outro," you shouldn't be mad at the Compton MC who has made his own way without significant assistance from Dr. Dre or 50 Cent since his debut album.
L.A.X.
is solid, and it will keep anyone from saying that Game was a flash in the pan, even if this really is his last LP as he has said. Hopefully, with the quality of this new joint, The Game will put the pistols away, stop with all the suicidal innuendos and realize that the game needs him.