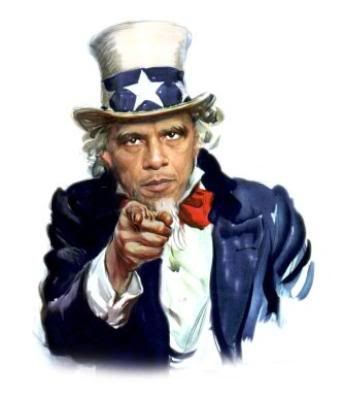 TODAY:
Obama's European Vacation continues. He is now in Iraq, although how long he stays is anybody's guess. Reports have him leaving sometime tomorrow for Jordan and Israel.
YESTERDAY
, it was pretty much understood that Obama wouldn't meet with Nuri al-Maliki, since that should be the job of the current POTUS, not a major candidate.
Despite the Iraqi leader's recent call for a timetable for U.S. troop withdrawal — not a far cry from Obama's pledge to withdraw all combat troops within 16 months of being elected — it remains unclear whether Obama and Maliki will even meet this week.

SOURCE: TIME.COM
But today,
OBAMA DID IN FACT MEET IRAQ'S LEADERS.
After being greeted by General David Petraeus at Baghdad International Airport, Obama toured the capital via a Blackhawk helicopter with Petraeus and his two congressional traveling companions, Democratic Senator Jack Reed of Rhode Island and Republican Senator Chuck Hagel of Nebraska. Later, he visited wounded U.S. troops at a military hospital in Baghdad and held closed meetings with five of Iraq's top political leaders — Prime Minister Nouri al-Maliki, President Jalal Talabani, Vice Presidents Adil Abdul Mahdi and Tariq al-Hashemi and Deputy Prime Minister Barham Salah.

SOURCE: TIME.COM
The press is all over Obama right now. So much that the McCain campaign is bitching about some type of media bias. They're even saying that Obama is monopolizing the coverage, as if he had that type of power. Even worse, The New York Times refused to print McCain's recent op-ed piece in its newspaper, right after they printed Obama's.
Sorry to dissapoint you Republickins, but it looks like Obama's being primed for the position (nolo). And McCain is just taking a farewell tour before fading into obscurity. Where he belongs.