In case you've been purposely avoiding the real world, President Mugabe of Zimbabwe was sworn in again this week, after *allegedly* losing the presidential election, forcing a run-off and then rigging the election.
Here's what a cartoonist employed by
Time Magazine
thinks about it all...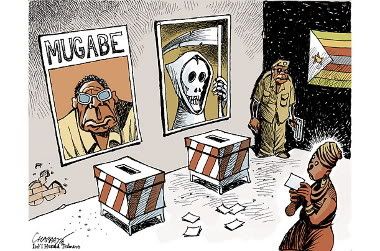 Question: Why is Bush considering sanctions against Zimbabwe instead of doing one of the famous "regime changes"? Oh yeah; he stole an election (or two) in his day as well. Almost forgot...