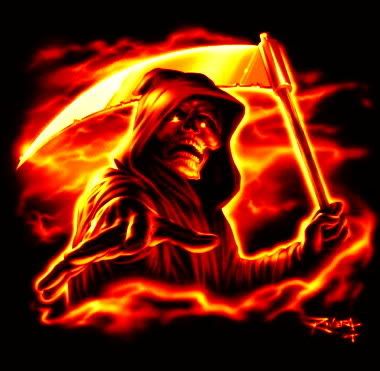 Shout out to COX RADIO, my corporate sponsor, for providing the free room and tickets to the 2008 Essence Music Festival, which went down like a laxative. Made me feel regular again. Maybe you'll catch the real rundown in a magazine or newspaper or something, if I feel like selling it.
In case you need it, here's a quick list of what to do and what not at Essence 2009, for anyone who didn't make the event this year. Just a head's up: next year's show, which is being headlined by Beyonce, will certainly be just as crunk. If you can get there, I suggest you make the trip. For the record, there are more women than you can shake a scythe at. Don't take my word for it, just
ask
axe somebody.
On with the list, and off with your head...
1. IF YOU DRIVE FROM ATLANTA, GET SOMEBODY ELSE TO RIDE WITH YOU
I drove a rental down I-85 and made it to New Orleans in about 7 hours. The drive wasn't that bad, but it would have been much cooler if I had somebody riding shotgun to offset any suspicious vibes I had that the cops might have been following me, which they weren't. But it's not very cool when you see thirty to forty cars pulled over in a row between Georgia, Alabama and Mississippi. Very, very sketch. I'm still shook and I've already made it back safe and sound.
2. DON'T STAY AT THE RITZ-CARLTON IN THE FRENCH QUARTER
Sure, it's at the top of the food chain when it comes to nice hotels. And most of the celebrities had rooms there, so it was cool to be walking outside to Canal Street and seeing people like Lynn Whitfield and Kenya Moore walking past you on their way in. Plus, I got my room for the freeski, so I can't complain too much. Then again...
On the other side of that, there's the snitch factor. Not that I would dare be dirty in the most esteemed hotel of the upper class, mind you… Let's just say that I had a funny feeling Sunday night while I was getting "prepared" for the concert, and less than 10 seconds after, the cleaning lady came and knocked. After that, I was pretty much sketched out for the remainder of my trip. Plus, the ladies at the check-in/check-out desk tried to play me with some extra charges, which I deaded immediately by being proactive enough to check my balance before checking out.
An Ill side note:
On my way out of the hotel on Sunday night to the Superdome, right after the cleaning lady interrupted my
session
evening, I was walking down the hall, on my way to the elevator, and saw a Swisher Sweet box laying in front of a room. Next to it was an iPod Nano and a rope of disco ball-colored beads. Guess what was in the Swisher Sweet box? Can you say, "Dro?" Better yet, can you say, "Free iPod?"
Then again, maybe you should stay at the Ritz, with those type of free goodies. But I'd recommend the W. It's way more jumping and way less sketch.
3. DON'T BE A HOT BOY
I said that I would consider going to the 9th Ward to investigate the progress after Katrina. That was until I realized that the locals would much rather come to us in the French Quarter than invite us back into their territory. When I say that New Orleans has it's own culture, I mean it. And those people can spot an outsider pretty damn quickly. Ever heard of a ghetto pass? Get one, or you probably won't be welcomed into the Mac-Melph-Callio.
Still, I got plenty of local love (nolo), probably because I'm from Alabama, and I know when and how to use local words and phrases like "out chea", "baby" (pronounced "bey-be") and "boy, that's cold." Get like me.
4. BRING CASH (WHERE IT'S SAFE)
There was so much authentically-fly art being sold by street vendors that I felt like a loser when I realized that I couldn't buy a single painting on Visa or AMEX. Most of it you've probably seen at your local Black Arts Festival, but some of the stuff was simply incredible. And the good shit was not even that expensive - $150 could get you something unique and exclusive, and I'm killing myself for not coming up on this ill Obama painting that was set against a newspaper backdrop. I can't even describe how cool that shit was.
Too bad I spent most of my cheese on hurricanes, pina coladas and gumbo.
5. DON'T PARK YOUR RENTAL ON N. RAMPART AND BOURBON ST.
Bourbon Street was ridiculous. And the atmosphere was electric. But I don't believe that even the crunkest of street parties gives somebody the right to stand on top of someone else's (literally, not mine) Jeep, unless of course ninjas were shooting and people were just trying to get out of the line of fire. So maybe those dirty bootprints were just from some lucky fool who had a MJ-inspired vertical and got away from certain death. I applaud that. Now, if I would have caught said local dancing to Lil' Boosie and Webbie on top of a car I was too cheap to have insured? Let's just say it he would have been "down bad."
Speaking of which, Bourbon Street did get shut down on both Friday and Saturday night/morning around 2 a.m., because locals were either engaged in massive street brawls or just good-old murder capital shoot-outs. From what I heard, some cats did unfortunately get bodied. Sorry, I was throwed off the hurricanes and too happy to get shot for the home audience. Tell CNN to save my eulogy and celebrity tribute for later.
My 2008 Essence Festival motto: "I'm too cool to die for a rental car."
6. GO TO THE CONCERT
The good people from Cox Radio, with whom I was chilling, were not trying to go to the actual event. They spent most of their time either in the hotel or on Bourbon St. getting throwed and trying to be like your faithful and humble narrator. Made no sense, especially when Chris Rock, Mary J. Blige, LL Cool J, Jill Scott and even Keyshia Cole (no, really) tore it down at the Superdome. And I was there to see it.
Proof, in the form of photo images and video, is forthcoming, once I get some sleep. For now, I need to unwind, relax and detox. Reserve your room at Hotel Underwriter (The W) today, or miss tomorrow. In the meantime, holla at a playa when you see me in the streets, trick. And don't drop your iPod or Swisher Sweet box on my hotel floor unless you won't miss it.
"I feel like lying / down in a cigar; roll me up and smoke me, 'cause I feel like dying…"
- Lil' Wayne; "I Feel Like Dying"