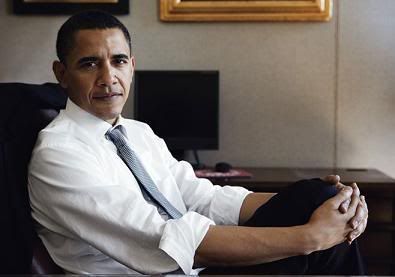 TODAY:
Senator Barack Obama announced that he has raised $10 million since Governor Sarah Palin's speech at the GOP Death Festival yesterday, from approximately 130k+ donors. Yes, that's in less than one day.
The Republican National Committee announced earlier Thursday, at mid-afternoon, that it had raised well in excess of $1 million since Palin's speech. Republicans expect Palin to mobilize their donors. But the Obama camp promptly used the speech as a fundraising hook, sending an overnight e-mail to supporters to contribute.

McCain can no longer raise private donations for his campaign because he has decided to accept $85 million in public financing for the fall campaign.

SOURCE: SALON
And he finally made a comment about Palin that acknowledges that she is alive.
It's good to see the senator staying busy through this nonsense. I'm getting back to my book. If anyone sees anything interesting or worth mentioning at the RNC, drop a comment in the box. But again, I advise you to ignore this brainwashing craziness. Overstand that mental poison is even worse than drugs. Word to Nas.
How about some Jill Scott instead?