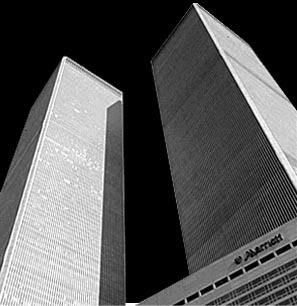 Today was the day that the towers fell. Hope you spent it in reverence of the fallen heroes who never meant to be eulogized when they left their homes for work on this day seven years ago. If only GWB would have listened to the advice of Condoleeza Rice. We wouldn't have lost two giants of the Manhattan skyline and thousands of great women and men on a day that has become a Republikkkan reminder of the fear that we should have as Americans. Remember, "they hate freedom." Translation: Nobody's safe as long as a Republikkkan is in office.
Let me chill and take a moment to show some respect. I hope that as you do the same, you'll take a moment to understand that it never had to happen. And then, take a moment to decide what you're going to do about it, as opposed to what some people would like you to think are your options in this situation. Are you voting in November? Are you encouraging others? Are you afraid of change? Shouldn't you be afraid of the status quo? You decide.
R.I.P. to the unknown true amount of deceased human beings who died unnecessarily because of a president's failure to secure our skies.