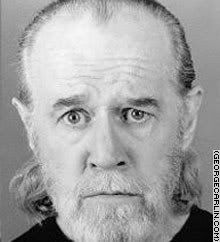 George Carlin, who was a hero to modern comics,
IS DEAD
. I remember watching him back in the day, and always feeling like I was watching a lecture that you could laugh at. Dirty words sprinkled everywhere. But did I ever laugh out loud? Not really. I always liked Richard Pryor a little bit better, but I can appreciate dry humor, especially when it represents the counterculture and its funny enough to make you think.
PRYOR = G.O.A.T.
CARLIN = S.G.O.A.T.
But there's plenty of time for that debate. For now, may the man rest in peace.