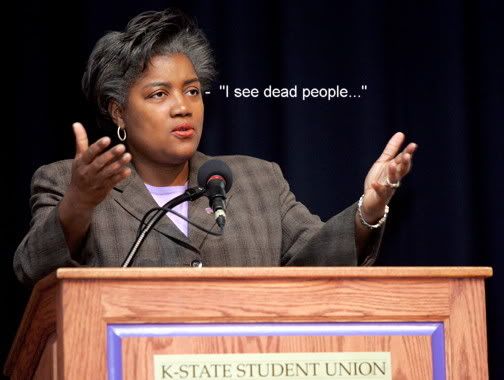 If there were a pR0n star named Donna Brazile, you and I would probably have a few tapes of her greatest hits. Matter of fact, there is a former flic chick named Veronica Brazil, and she was a
beast
before she left the game. From what I'm told, of course. Not that I'd know...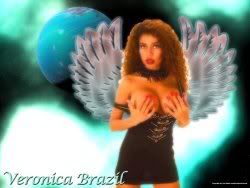 The real Donna Brazile (ooh, that name) is a beast of another sort; no pun intended. As the former campaign manager for Al Gore's 2000 run for POTUS (damn), she is under fifty years old, connected like Tetris and a fixture in the American political media. Next to Cunnilingus Rice, she's probably the most powerful African-American woman in politics. Sorry, Oprah.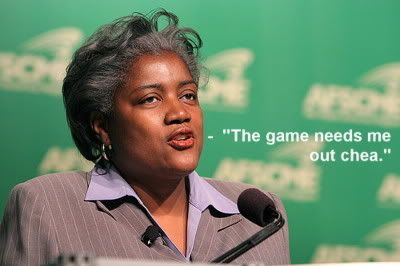 First of all, you have to give her points for looking better than the average senior. Plus, she's heavy in the political game (npi). From my memory, which is never wrong (except when it is sometimes), she has been involved in several failed Democratic presidential campaigns, yet she personally has a perfect k.o. record in political commentary. She's damn-near never wrong. She may not always say what she's thinking, but what she says is pretty solid
, somewhat like her physical frame
. Yes, she's a brick house, and if I weren't twenty years younger and convinced that she's a lesbian (which is still cool), I'd push up on her something serious. I dig her intelligence. Plus, she obviously has good credit and lots of friends in high places.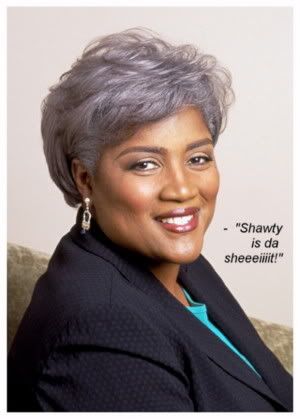 Contrary to what her name suggests, Ms. Brazile (ooh-la-la) is neither from Rio De Janeiro nor Ipanema, and she doesn't speak Portugese. She was born in New Orleans, La., which probably explains her sense of style. You automatically have to respect people from New Orleans, whether they Katrina survivors or not. There's something about the city and it's historical culture that makes people from there very different than the rest of us. The accents are crazy, and the slang is pretty awesome as well. I admit to replacing the word "here" with "chea" on occasion, just for my own personal amusement. Plus, the city was always swampy. When the night hits, you can walk through the streets and hear jazz always playing in the background, even in complete silence. Women from Chopper City also have this slick, quiet boss gangster thing going on, but if you piss them off, they probably act like Mia-X, back when she was still down with No Limit Records.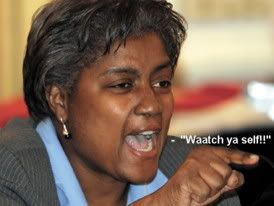 Maybe I'm jonesing for a woman who
COOKS WITH GREASE
, talks politics and is built for winter weather. Or maybe I'm still hung over from last night. Whatever the case, I'm giving Donna Brazile the honor of having the hardest name in the game for Q-1 of '08. If you've got a better, flaunt it. But be honest, you'd love to have a girlfriend with a name like "Donna Brazile." It sounds like a super-sexy femme fatale superhero, with an extraordinary rump and the ability to make her villanous male enemies skeet themselves whenever they make eye contact with her, like a sexual Medusa. She always wins by rendering them helpless, temporarily brain-dead and unable to retreat.
Word to
Love Jones
; "You know where the blood comes from, right?"