Say goodbye to the guy who once made you believe that you were a future Hip-Hop mogul. Say R.I.P. to the person who danced in Jodeci and Father MC videos in the early nineties. Say peace to the man who put out "It's All About the Benjamins." Say good riddance to the name by which we once knew Sean John Combs.
Puffy / Puff Daddy / P. Diddy is dead. Who knows, Diddy is right there in the bottom right corner of the YouTubery posted above, but if you listen to the man, he's telling you like it is. He's got, no tiiime for fake names. He's officially crossed the glass ceiling of Hip-Hop, which is usually "label head" status (nolo) and negro endorser of white-owned products. My man is a household name, so I guess it makes sense for him to use his very own name, since he can't change faces when he calls himself by various nicknames. I mean have you ever looked up the word "Puffy" in Google Images? As long as you're not at work, try it right now and see what comes up...
Don't worry; I'll wait...
None of us close to 30 years old can lie and say we didn't aspire to having what Puffy had back in the 90's. He was big, but he was still something of a hood secret. Now, he's executive producing the ABC version of
A Raisin in the Sun
, and playing the starring role alongside some heavy hitters. It'll be better than the Broadway version, I'm sure, because a TV production has editing. Broadway is live.
Sean John Combs wants you to know him as an actor now. He wasn't so pressed back when Oliver Stone first courted him for
Any Given Sunday
, but now he seems convinced that with his presence, money and power, he can move Hollywood his way. More power to him. But it is sort of depressing that he's showing us that he's too grown for Hip-Hop. Jay-Z is already wearing suits, and he hasn't been in the executive chair that long.
I've always wondered what would happen if Puffy fell off. Would rap music lose it's number one stunner and lose its standing in world culture if the biggest name in the business were no longer commerically viable as an artist? Well, look around, my brothers and sisters; it looks like we're at that moment. Are we as Hip-Hoppers too immature to see that even our heroes are abandoning us? Has the money in music dried up that bad, or is Hollywood poontang just that attractive that video hoes are no longer good enough? Or is Hip-Hop just dead?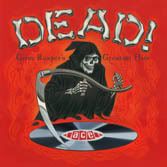 Who cares, right?
TIME MAGAZINE
thinks he's still
that
dude, and I'm not hating. Unforgivable actually smells pretty damn good, to be honest. Eff it: Long live Sean Combs. He probably deserves to settle into being a thesbian, and we're just too blinded by his
DIAMOND IPOD
to see that not even precious jewels can sell wack rap music anymore. May the name remain, even if the character is no more.