What had happened was…

In honor of that last post for my homie ToeJoe (R.I.P.), I was going to write this cool ass post tonight. On some real, "Michael Jordan – Journalist At Large," type of blogging. None of that, "THE UNDERWRITER could care less about your dewshy-ass feelings," type of thing. That real journalism that other Hip-Hop bloggers write about, like the Erykah Badu listening party that just went down tonight at Mid City Café. Maybe even the Rick Ross shindig, or even the local rock band's show at Drunken Unicorn that my white homie told me about.

But alas…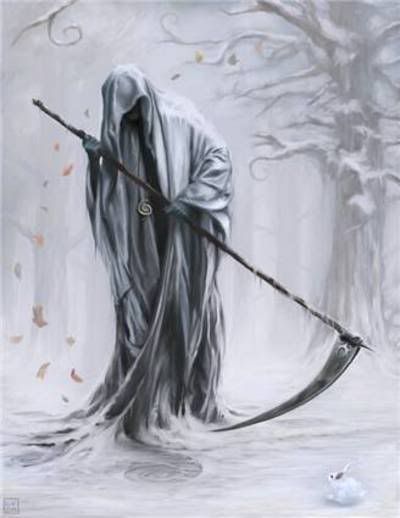 (See, this is why the F*ck I don't go out in Atlanta. Niggas like Blaze
ask
axe me all the time what's poppin' in the clubs. I give them the same fonky ass reason. This city is built for tricks, and tricks are for kids. I'm not the one to be out chea using my check card to finance a lifestyle I'm not so sure I condone anymore. Sure, I like to get swervy like the rest of my heathens, but not to the tune of $100 or more, just to be seen by other niggas while I'm doing it so bigly.
And this is why I'm hot. I'm mad cuz I drove, about a hunned blocks. This is why, this is why, this is why I'm hot. I still spent a hunned dollaz - that I ain't got. This is why, this is why, this is why I'm hot. The spot wasn't fly; promoter should be shot. This is why, this is why, this is why I'm hot. So I'm back at the crib, with Coronas and some pot. This is why, this is why, … You get it.
So here's where the phuckery began...
It was supposed to be a night of Hip-Hop journalist research. I was done running errands by 5pm, so I figured I'd get a head start on the buzz, since I had to drive downtown from East Cobb County, where Ne-Yo just tried to ghost-ride the whip a few days ago and found himself in the hootie-hoosegow. Better to get the buzz early and let it wear off by night, Cobb County boys ain't nuthin' to eff with. By the way, Ne-Yo's mugshot
DOME GAME
(nolo) is pretty unbecoming. Anyway, I called myself hitting up my favorite wireless bar first, to get pre-scummy off gin and tonic and Bass ale, right around happy hour. Cheers!
Two rounds of each, then an Alabama Slammer, just for the good folks back home. That's five. Now, to all you M.A.D.D. motherf*ckers out there, don't get upset. The gin and tonics were short. Plus I had a stomach full of MSG from lunch at China Dynasty. So I was still pretty clear headed by the time I rode out, on my way to meet the Leprechaun, en route to hear the new Erykah Badu.
Come on, now. Don't act like you don't know the Leprechaun. There's a little green man in every hood who might be elusive, but if you find him, he'll lead you to a pot of gold. I caught his ass and got the prize.
So that's another action item scratched off my itinerary. I'm now cruising down 75S, on my way to Mid City Café, which according to Mapquest, was located at 845 Spring Street. I even went the extra mile and wrote down the address and other helpful information on a bar napkin earlier. It was between 5th and 6th Street, near West Peachtree. It was close to the Georgia Tech Barnes & Noble. I know the area.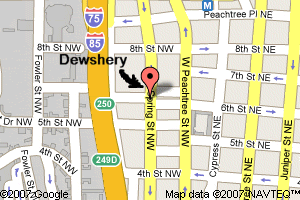 The question was, if I really know the area, why the f*ck am I driving around in circles in midtown Atlanta, looking for a place that doesn't seem to exist? See, this is how MA$E got caught up a few months ago, except that I really wasn't looking for transtesticle prostitutes; I was trying to find the new Badu album party. And it would be so much easier if the building numbers didn't just jump from the 900's to the 750's on Spring Street, with no other club venue in sight besides The Cheetah, the notorious
trick factory
strip club.
I finally get tired of doing block donuts and park on a side street between 5th and 6th, figuring that I couldn't be that stupid. Mapquest said it was right chea. So I walk around the corner, still on Spring Street, and what do I see? 845 Spring Street – Mid City Lofts. Some high priced condos that look tricknificient from the outside. But where's the club?
I see a sweet, old black lady sitting behind the front desk, behind the door. Security, I guess. She buzzed me in, and I
asked
axed her if she knew where Mid City Café was. She smiled, and said that everybody kept axing her the same question that night. The lounge was on the other side of the building. The side facing the other street. In other words, the club wasn't really on Spring Street at all; it was on West Peachtree. Thank you Mapquest, for your directional dewshery.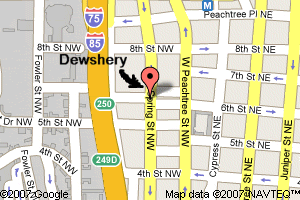 So I walks in and see that it ain't poppin'. Not at all. The venue was a slit in the building's front skirt, wide enough to look into but not enough to be happy about. Plus I felt like I looked pervy for showing up alone, dressed semi-rugged for what I thought was a Badu-inspired party. I walked in, and west-side walked it out. Shit was lame.
So what next? Let's see about that Rick Ross thing that one of my editors told me about earlier via Gmail. Of course, I had earlier said, "Eff Rick Ross," in conversation, but I didn't really mean it now that I had driven 30 miles, for a lame listening party with no host and no real Baduism. At that point, I was just ready to hang out. But I was reminded by my editor by text that the Rick Ross event was RSVP-only. And yes, they were checking names at the door. Eff Rick Ross.
That left Option C: the local rock band at Drunken Unicorn. D.U. is located on Ponce de Leon, which ironically is also known for transtesticles, winos, doo-doo head-dummies and various losers, but there are some cool hangouts as well. FYI: If you've been to Atlanta and never visited MJQ, you aren't really connected to the real scene.
So I park and approach the door, when I see a sign above the door that says they accept cash only, thanks, at the door and at the bar. I reached into my pocket and found 2 fives and 1 one. Not good enough math for a good time. So I walk in, get carded and
ask
axe the doorman to direct me to the nearest ATM. He said it was right outside, and the cover was $8.
I walk back outside, probably looking like I had been rejected for having a fake ID, and head for the ATM. I get there and see a sketch of some lunchbox white guy who I guess had been robbing fools left and right at the ATM. Not my problem! So I go for my card, and get all revved up for a good swiping. Then I notice the screen says, "Out of Order."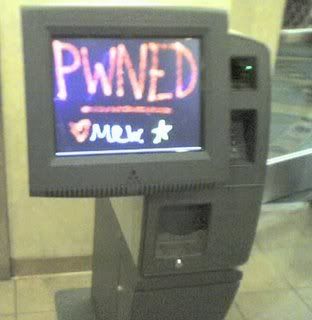 F*ck!!
So I look at the only viable alternative: The Kroger across the street. Surely there would be either my bank or a Bank of America inside, which is usually the custom in Atlanta. So I start walking across what has to be the longest grocery store parking lot in the metro area, smoking a ciggy and cursing the devil. I walk through the automatic doors, right up to the fat bastard security guard who looked like he was one chicken wing away from heaven, and
asked
axed him to point me towards the ATM.
He said, "Oh, it's right there, my brotha!" I looked behind me, and lo and behold, there it was. A shitty little ATM machine that you could probably lift and run away with if it weren't cemented to the floor. But I didn't care at all. I loved this little financial booger bear, because it was going to set the night to music for me. All would be perfect. I once again reached for my check card, and this time I let it rip proudly through the reader like Nelly in "Tip Drill." PIN number? Yessir! Fee? No problem! Amount? $40, please!!
… waiting patiently…
"We're sorry; this machine is temporarily unable to dispense money. Please try again later."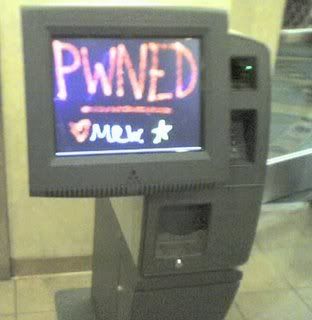 F*ck this. Three strikes and I'm out.
So I start the long walk back across the parking lot, probably looking like a loser who's balance was overdrawn and couldn't buy crack for the night. Lucky for me, one of my all time favorite spots in Atlanta, Dugan's, is located directly across the street from Drunken Unicorn and known for the supercrunk chicken wangs. So I moved the car about 50 feet, grabbed my laptop bag and ate 10 lemon pepper joints, had a glass of Heineken, checked my email, read some blogs, used my Visa check card and called it a f*cking night for Atlanta. Sayonara, bitches.
On my way home, I stopped and copped a six of Corona, ate my leftover egg roll from China Dynasty and called the Leprechaun to thank him for the pot of gold he had given me earlier.)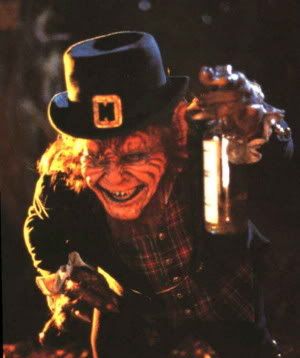 That's what you call a happy ending.