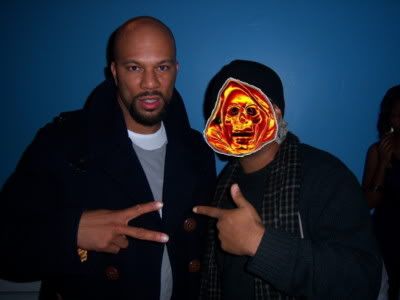 Chicago's own Common came to my homestate last weekend, so I stopped by the all-new Club Sky to check it out. To be certain, this guy Common brings the women out in full force, and there were plenty of Lisa Lisas (80's version) in attendance. I wasn't alone, so I had to do the honorable thing and stay by the bar getting
OVERTHROWED
until dude hit the scene around midnight or so. Wouldn't want to look thirsty like the ladies, and man were they parched...
When I say that the ladies spazzed, I mean it. I knew that Common had fans, but I didn't know that he is, on the low, approaching L.L. Cool J status with the female rap base. Maybe on the high. And when I say that the high majority of these women were sexy, I say it because the shit is true, on the low.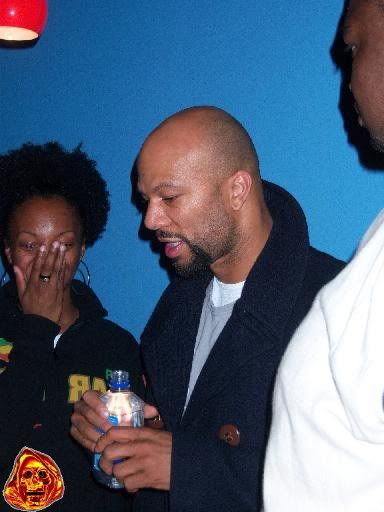 Com came through, sat at the couch with an extra big bodyguard from Birmingham that my homegirl says she dated for a second. This dude was widebody like a walrus, but he had that roscoe/biscuit/heater/toolie/pistola on his hip, and his size alone was suggestive enough that nobody really tried to push up on Chi-Town's Nas like they couldn't control themselves. Yet he still managed to pull off his job without reaching for the burner and keeping an ill mean mug on his grill, just in case a heifer started acting a donkey, if you will. With his fat ass.
I let the ladies get their kicks and giggles before running up on Common, Bamma-style, and saying, "Thanks for coming to Alabama, cousin." He seemed pleased that he was so well received. It's funny, oh my brothers and sisters; most outsiders always seem super-surprised when they visit the state in which I was raised. They have a wide-eyed stare, and a simple smile that suggests that they didn't expect so much deep south love
(NOLO).
Common definitely enjoyed the crowd's response to his appearance.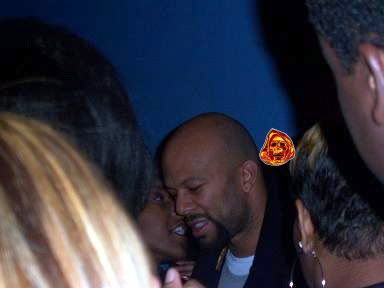 From there, Common cut through the crowd with the assistance of the big dude and stood in the stairwell that led to the DJ booth and pool room--pretty much the only place from which he could effectively perform. He commenced to rock. See video below, and please don't bitch and moan about the darkness; just be grateful for the flashing lights of nearby cameras. You want better quality, I suggest you invest.
Here's the Com'z rocking "Go!" from his debut album on G.O.O.D. Music,
Be
...
Here's "Testify"...
Check the crowd response to "Universal Mind Control", the Neptunes-produced lead single...
From there, he dropped "The Light" (which would have come in handy for my camera) and closed up shop to loud applause and cheers. I have to say that I continue to be impressed by Common when it comes to longevity. He's one of the few rap artists that has been around for ten years of which I can still call myself a fan. Really, it shouldn't be much longer before we just stop fronting all together and put him in the Top 5 of all time. Like he said on "Get 'Em High": "Real rappers is hard to find--like a remote... control rap is out of."
Next up: Musiq. That's right; the cross-eyed R&B singer. I caught him doing his thing as well in Alabama, so I figured why not post it up. Check back tomorrow or the next day for that. And hey!! Thanks for giving me your attention for the last two years.
Make sure you cop
Universal Mind Control
when it drops (hopefully) on December 9.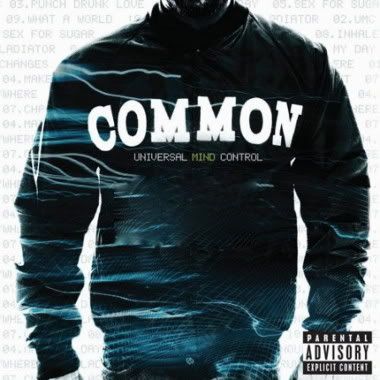 "
Should have my own reality show called,
Soul Survivor."
-Common; "Get 'Em High"