If you haven't seen it yet, I strongly suggest adding
D.L. Hughley Breaks The News
to your weekly schedule of television intake. Jesus knows that we don't need another hour of TV in our lives, but this one actually helps you to dissolve all the other nonsense available on the variable VH-1's, MTV's and BET's of the digital audiovisual world and learn more about what's really good in the world today. In a black comedy way, of course.
The first show I caught in full was the episode on the Sunday after Obama's victory. It was just perfectly timed for relevance, humor and appropriateness; it seems that someone in the higher offices of the CNN building is smart enough to realize that if you want someone to be able to apply comedy to the first black presidency, they'd better be black. Brilliant!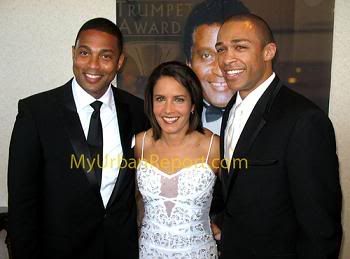 Wow; how the world has changed in the past six months, huh? Looks like change will continue to come well into 2009 and beyond, oh my brothers and sisters, and we've got to learn to live with the difference in order to have any input or effect on the future. Especially when the guy in charge looks more like America than any other candidate in recent history. Now that we've got a leader, we need supporters, workers and buffers. As long as we have intelligence, art and dialogue, we'll have a national discussion that will lead to something positive.
But enough of that. Seriously, D.L. Hughley is funny as hell. To be fair, I have noticed that his show can be somewhat off when it comes to the other characters that are featured. It's like someone took the Dave Chappelle idea and made it more politically astute but more watered down; sometimes the people overplay their posturing and the jokes fall flat, leaving a lot of pickup duty for the host. Luckily, D.L. has a knack for improvisation and delivery, so he always ends up with a good show. Personal opinion: I've always thought that he's best when he moves between politics and picking random people in the audience to roast. Sure, he's heavy on the profanity, but why the eff wouldn't he be? He's a black comic, for God and Pete's sakes, providing people of other persuasions than African-American rhetorical proof that you can get away with anything that comes out of your mouth if it hints at a strong intellect.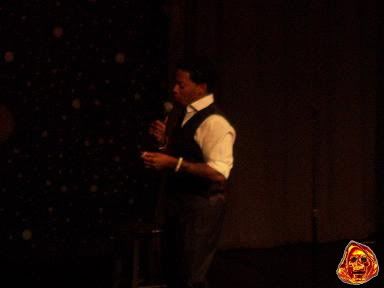 Anyway, here are just a few clips from the performance. Check him out when he's in your town, and support D.L.'s TV show so that CNN keeps cutting checks for black folks with creative, activist minds like mine.
Coming up next, Common (yes, that Common) comes to Birmingham this past weekend. But did he kill? Tune in tomorrow to see.