Visiting New York City is a surreal experience for anyone from the deep south. To be honest, I've always been against the idea of living in The Big Apple but happy to visit for a day or two. The feeling I've always taken away is that nobody should have to pay that much just to survive, no matter how cool the people are. But there is the key; the people in New York do make the city, and the environment creates a hardened (nolo) perspective--the NY State of Mind--that exists in even the most anti-social residents of any and every borough.
The first major difference I felt was when I opened up my laptop at the Chili's Too in La Guardia. Nobody tripped. Not that I would have cared; I do it all the time in Georgia, Alabama and Tennessee, and nobody says shit then either, but the feeling that is displayed on their faces takes body language to a new level of expression, especially when it comes to looking like a hater.
As you see below, I've been riding with Obama since the beginning, and the sticker along with my smile should show you just how I feel if you're looking at me sideways. But again, that's what I'm used to in the south; in New York City I was reminded by the relaxed look on the faces of onlookers that I was among friends, even before I had branched out into the city. As a welcoming sign of acceptance and mutual political thought, it was quite a relief.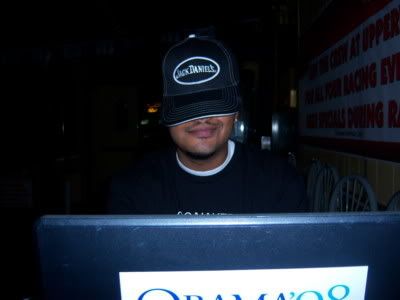 Being the third trip I've made to NYC since I've been old enough to drink, this was by far the best time I've had. After an incredibly janky flight, we landed and were towed into the gate as the flight crew threw on "The Sweetest Taboo." Don't
ask
axe me why our plane couldn't steer and push itself. At least the mood music calmed me down after all the turbulence and whatever else was really wrong with the damned plane. Thank God for Sade and solid ground.
Anyway, I was in town for an interview with a NY-based website that shall remain nameless until the word is official, possibly longer. If you haven't noticed by now, I'm really into anonymity. Fame is an unnecessary side effect to being effective at my craft, and I'd rather sacrifice the spotlight than the joy of loving the job. While I was hanging around SoHo, I visited The Huffington Post before taking the R train to 57th street to get up with the homie White Jesus.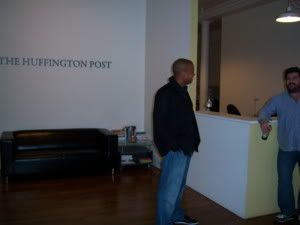 [
The homies White Jesus, David and Stella Artois
]
Because I was already planning for and expecting a positive trip, I setup my iPod while still in Atlanta Thursday night with NYC-inspired music, to give me a better respect for the subway ride and scenery. While moving through underground Manhattan, I was listening to shit like "Pacifics" by Digable Planets on repeat. That's always been a song that reminds me most of how you NY cats live. Funny how it made much more sense when heard on the subway. You hear, through the headphones, the influences of the train itself in the music, through background noise captured in the track. The sound effect gives it way more clarity than if you were listening through home stereo or car speakers. Experiencing NY Hip-Hop in NY is like drinking Evian directly from a river stream in the French Alps, without the hassle of the plastic bottle. Fresh.
From there, I made the trip to the
area
(edited) where the homie White Jesus lives and works. Having a best friend who happens to have a
good job
(edited by request) is a perk in any city, but in NYC it makes a serious difference. The homie lives in an area that is straight out of
Seinfeld
or
Friends
. Very urban, but very sociable and lively. And very Jewish. Like the homie says, "It ain't Karate..." Inside joke. Think hard enough and you'll get it.
Back to the story, we got on some Ketel One at his crib, then took a cab to TriBeCa to get up with some other friends who live in town. They had the hookup on the leprechaun delivery, so we stayed put until around 11 p.m., chiefing that great, high-powered Sour Diesel and Apple Jacks. Legalize it!!!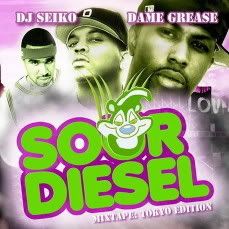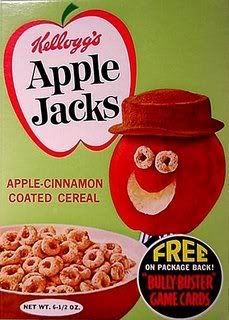 Next, we hit up the apartment of a former co-worker from my bartending days. She had recently moved to Brooklyn, so we were able to visit her and her roommates on the way to the club for a few extra free drinks and our first game of "Thumper." If you've never played it, it's another one of those games that white people play when they're getting
OVERTHROWED
. And that shit is pretty fun, especially when you have some drunk white women surrounding you in a semi-circle and doing all types of crazy dances and gestures. Here's an example:
Moe finally had enough and steered us towards the party in Brooklyn before we got too juiced up with the party girls, who were headed to their own little shendig around the corner. We took another cab to the club, where all we had to do to get in free was agree to be interviewed on camera about how President-elect Barack Obama has inspired us. Supposedly this video interview will be available tomorrow on their website. If so, I'll post a link. If not, forget that I said that. But I did take a photo of the guys doing the interviewing, just for posterity and so that I'd look like a tourist.
The party was
ehhh
, but at least there were some other cats that I knew from Atlanta in the building. We spoke to a few ladies, drank more than a few G+Ts and stayed until around 3 a.m. The women were weird; they stared all night but were too timid to respond when we spoke, so I left it alone. Don't you hate a shy chick? Didn't really matter; I wasn't there to try my one-night stand luck; I was there to drink with the homies. Mission accomplished.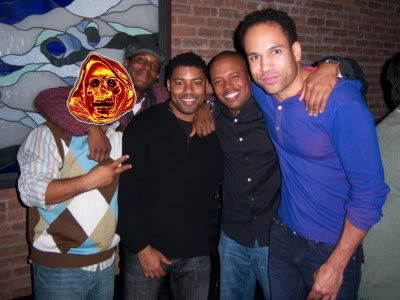 We'll leave all the other details out, but the moral is that I had a great time in New York. This was the way I always wanted to experience the city, and just when I've developed the proper mentality to deal with NYC, I see that the city responds to my demands. It gave me the impression that even though people swear up and down that it's an almost impossible lifestyle to lead, which I would have agreed with before this weekend, New York City is still the Mecca of American civilization and the birthplace of Hip-Hop. Because I've always been assumed to have originated in either NY or LA--yet I'm actually from Alabama--it felt like a homecoming of sorts. I can't lie; I pretty much fell in love with the city this past Friday, and I feel like I'm cheating.
The next day, White Jesus had a meeting at his
job
(edited) and I had a hangover that was not ready to quit before noon, so I woke up, popped a Claritin with a bottle of Pellegrino like the elitist I am and went right back to sleep on the couch. I woke up able to breath and refreshed, ready to hit the Sour Diesel again and grab a slice with the homie before hitching a cab ride back to La Guardia to make my grand exit.
On the way back, I had a great convo with the cabbie, who almost turned me down for a ride from the
area
(edited for White Jesus's anonymity), but changed his mind because "I talked to him with respect." My man was of Arab descent and a hard-core Democrat. We talked the whole ride about the historic implications of an Obama adminstration and how we've got to work as a world community to keep our differences from becoming rivalries, no matter how far apart we are geographically, ethnically or ideologically. When I arrived at the curbside check-in for Delta flight 925, he wished me good luck on being offered the writing job and thanked me for the conversation.
Jesus. I think I love New York. Don't be mad, Atlanta. Just step your game up before I leave your tired ass.