Anybody who went to an A.U.C. college or university in the mid-90's and remembers the 1995-1996 Morehouse Homecoming concert will understand why I'm writing this blog about the Maxwell + Jasmine Sullivan concert in Birmingham this past Tuesday night. Obviously, nooobody had heard of any Jasmine Sullivans back then, so of course the same went for Maxwell. But he was a new artist at the time, making rounds and paying his dues on the Chitlin' Circuit, and he was the unlucky bastard new guy that was scheduled to open for The Fugees.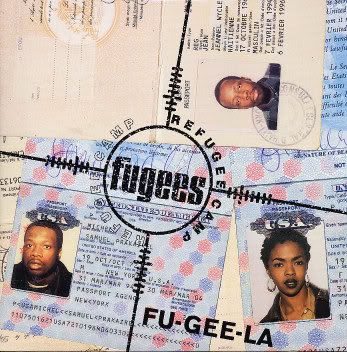 If you remember Fall '95, that was the year when 2Pac's
All Eyez on Me
and The Fugees'
The Score
put Kanye vs 50 Cent numbers up on the Billboard charts, sparking equally lucrative tours, creative offspring and zealots of every sort trying to jump on either the west coast gangster rap or neo-soul bandwagon and ride that beeyotch to the top. So if you were opening a show for them and you weren't aready a star, you were taking a major gamble with your pride trying to "warm it up" for headliners that were obviously among the biggest names in the business at that time. You can imagine my crew's impatience, having executed a stampede to get past the line at King Chapel's doors for the concert, when the host announced some guy named "Maxwell" that was going to entertain us until Lauryn, Wyclef and Pras were ready to take the stage. Do remember how dude used to look back then, with the hair, glasses and either some dusty jeans or those kung-fu master linen scrubs.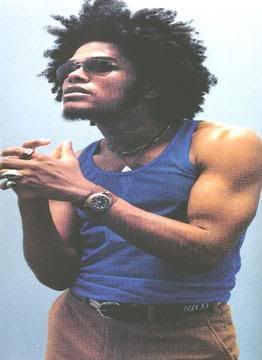 Oh, my brothers and sisters, we booed that young man off the stage with glorious, reckless abandon, and I mean
the whole crowd
joined the chorus. I'm pretty sure I recall that he came on stage with a bar stool, an accoustic guitar and no shoes, maybe chancletas. Cats weren't having it. We pointed him away from the building with the same steadfast posture as carried by the statue of MLK out in front of the building, waving our arms and shouting for the music to cease. Hearty and magnificent in depth, the ringing and rolling boo went from side to side of the auditorium, with an awesomeness of vocal strength and determination that made it feel like a scene from the colosseum battles in
Gladiator
.
It was something like this...
But worse.
Anyway, thirteen years later, though we believed we had killed his career at the time, it has become apparent that Maxwell survived our unrelenting Apollo-styled reception of his performance and progressed. Maybe he just wasn't ready for the stage back then. Maybe we just couldn't dig his "energy" and "swag." Either way, he continues to excel at the job of singing live and making women swoon. He will be around for a while for that reason alone, even if he does put on a weird show. On the low, I bet 80% of dudes hovering around 30 have used Maxwell (nolo) for at least 1 romantic interlude with a special lady in the last 13 years. Maybe on the high. All I know is that he's coming back from a 7-year hiatus, and the comeback looks like it should be a success thus far.
Happening as it was on the first Monday after
The Day
, the crowd at the BJCC was quite dapper and upbeat, even though most of the people there were probably just coming off a shitty first weekday like myself. You could tell that we were all riding the Obama high for as long as it would last. You did get a sense that people's smiles seemed to be worn naturally on their faces with nothing to hide, as if tonight's ticket price for a well-timed musical performance was an uncharacteristic luxury that we all deserved for showing up at the polls. Oh yeah - don't let me forget about the abundance of black women with jobs, nice dresses and other special qualities that you didn't get to see, because you were commenting on somebody else's blog. You lost.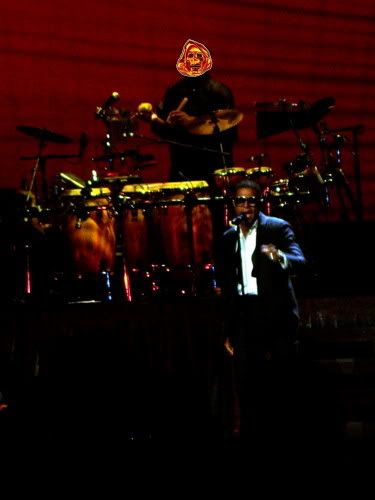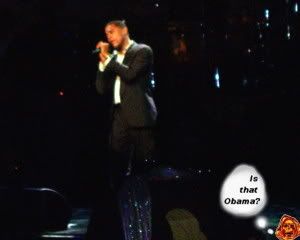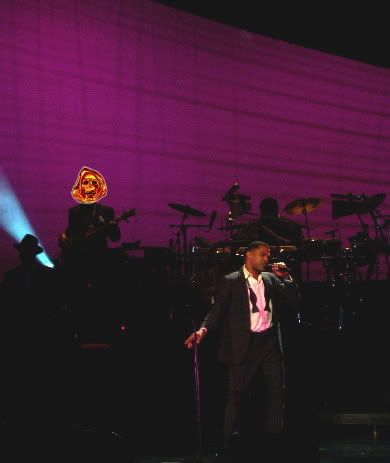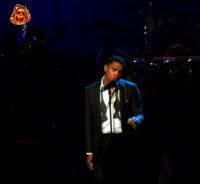 Oh yes, my brothers and sisters, women love Maxwell, with all his weird "energy" and "swag". He's strange for different reasons than he was in 1995, which may be the key to his career as a performer at a time when nobody's buying albums. Back when we first saw him, this guy was earthier than dirt--even beating out Erykah Badu in a male sort of way. But now he's weird because he does weird dances and says crazy shit on stage about how sorry he is for missing that last show... which, from what I heard, was like six years ago and nobody even remembers.
Then he makes a public plea for free panties,
asking
the ladies in the front to throw them, and suspiciously he receives a pair that must have been pre-planned for trajectory. And what kind of heifer already has draws in her hand ready to toss in 2008? More fuckery occured when he spent an extended amount of time on the floor with the mic stand between his legs, hunching the air while looking up at the spotlight, possibly searching for an answer to a question I wouldn't dare pose.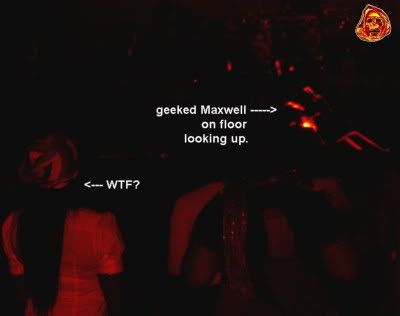 Say what you will about his "energy" and "swag"; the guy can sing. And he can pack a concert hall in a major city at seat prices starting at $70, which is way more than he used to get when he was onstage chewing an incense stick. Much respect to him and the lovely Jasmine Sullivan, who played "new vocal Whitney" to Maxwell's "R&B Obama", putting a serious dent in the coffin of R&B music, if only for one night. Musical highlights include Sullivan's entire performance--this girl is serious--and Max's "Lifetime", "Til The Cops Come Knockin'", "Ascension (Don't Ever Wonder)" and "This Woman's Work."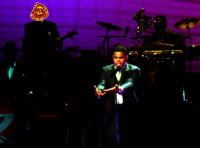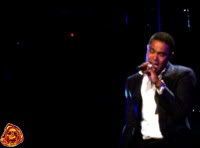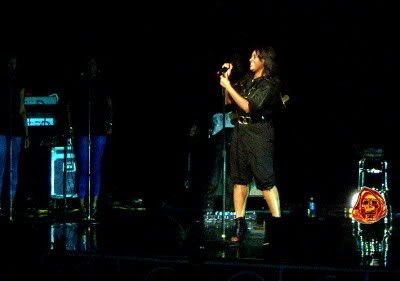 (Jasmine Sullivan and her painter's uniform)
The moral of this concert is that if you have true talent you can get away with murder on stage. Jasmine knows that she is wrong for wearing a Dickies suit with the legs rolled up to the knees. And Maxwell is a good enough vocalist that you don't even mind his "energy" and "swag". He's a true musician, and for that he deserves respect.
If he comes to your town anytime soon, go ahead and take out a payday loan so that you can go to the show with some change in your pocket, find a thirsty woman and groove to the rhythm of romance and blues. Maxwell has come a long way from sporting farm attire to wearing a suit and necktie. Now, if we can just keep him away from the "party favors" backstage so he's not getting geeked up before the show, we'll have a new-school Marvin Gaye for years to come.
Is it me or did Maxie steal the infamous "Soy Bomb" dance? You be the judge, dear reader. I'm about to go to bed. If you live in NY, let me know what's good for the weekend. I'll be in town.