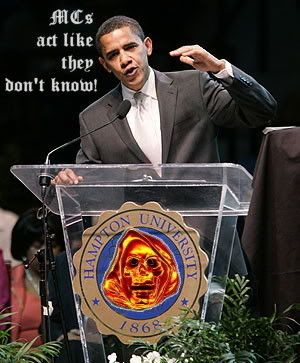 I had the unfortunate luck of attending the BET Hip-Hop Awards last month at the Atlanta Civic Center. On the way towards the gate, walking from the parking lot, I saw plenty of friends and even one of my former interns, which still trips me out to this day because it makes me remember that I've actually had people work under me for free before I was 25. Wow @ the music business...
Anyway, she and her friend, who I've also known for the same amount of years, were headed in the opposite direction of me as I was walking up Piedmont. We saw each other, hugged, and I
asked
axed them where they were going. "To sell these tickets and get the hell out of here." They both seemed like they were beyond anxious to get rid of the tickets, and almost gave off the vibe that they were secretly willing to just toss them into a sewage drain. Maybe because they knew that the minstrel show was about to pop off.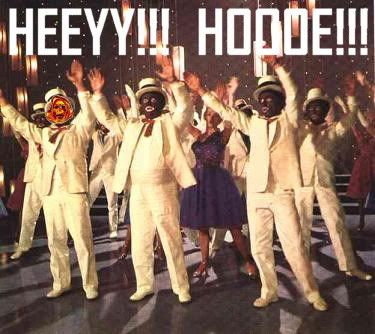 Once I got inside, I realized that sometimes the student can teach the teacher. Those girls made much better usage of their time than I did for the next two hours, even if they did nothing more than stare at a piece of chewing gum on the street until 10pm. BET should have let Oreck vacuums sponsor the event and could have given out free FlexiStraws to the audience members, because the show simply sucked.
The three performances that stood out the most were the Salt-N-Pepa/Yo-Yo/Rage/Mc Lyte ladies' night show with the "Whatta Man" campaign, the Common/N.E.R.D mosh pit which featured Lil' Wayne, Swizz Beats and T-Pain, and presidential thug Young Jeezy, who performed from a bully pulpit onstage while openly and enthusiastically supporting Obama for president.
Now that the election is over, Obama is in transition between his current job and his future one, naming cabinet members and appointing point persons to assist in building his administration. There is a fervent level of support within the Hip-Hop community for the new leader of the free world, and everyone from listeners to artists are unified with pride. Young Jeezy's "My President is Black" is blaring from thousands of old school Chevrolets in any and every hood in America, while Will.i.am and John Legend are rocking stadiums with "Yes We Can." Even the moguls are involved with the moment. Everybody won!
Yet it was rumored that someone behind-the-scenes, on behalf of President-Elect Barack Obama, quietly requested to Sean Combs, Sean Carter and Mary J. Blige—among other A-list celebs and entertainers—that they refrain from attending the victory celebration in Grant Park on Election Night. Speculation ensued that this was so that no attention would be diverted away from the man of the moment. But you didn't have to look too closely to spot the most powerful woman in the world, Oprah Winfrey (in her money green business suit) or the Reverend Jesse Jackson Sr., who kept a finger to his lips, his arms tightly crossed and his face wet with what appeared to be some form of moisture. Whether or not this was actually salt water in the form of tears is up for question and not confirmed at press time.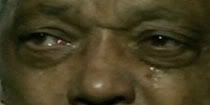 Those two celebrity entertainers made sure that they weren't outside of the view of the video cameras. What I took from their presence was that Obama stood in between the old guard and the current establishment, but that did not include Hip-Hop--at least not yet. Some of us are probably already calling foul and seeing the exclusion of the Hip-Hop power elite as biting the feeding hand of urban culture, which could of course be reasonably included as one of the major factors that resulted in the election of Mr. Obama. I even read somewhere that dead prez, the radical black militant rap group, is already kicking up dust and drawing a line in the cultural sand between themselves and the soon-to-be "44." How this is going to boost their careers, I have no idea, but I do remember that they were open supporters of Cynthia McKinney and Rosa Clemente, which was quite the fairy tale if you
ask
axe me; no disrespect to Bill Clinton. And I do remember that, as much as I admire what dead prez does for Hip-Hop, they are a little
too
ill to be taken seriously sometimes, and it's way too early to cast Obama as the next Uncle Tom.
The question is, will Obama ever have a concert on the lawn of the White House that looks anything similar to this year's BET Hip-Hop Awards? We know Common is invited automatically, and Michelle will probably use her pull to get Salt-N-Pepa added to the lineup, but will Young Jeezy get to perform at the inauguration? Does Obama need him anymore, if he ever did? Or does Young Jeezy need Obama now, and does he foolishly expect to be embraced as a former "snowman" turned Democratic activist? Should he hold his breath waiting to be named the new national drug czar chosen to be in charge of the ONDCP? Or is this a prime opportunity for people like Young Jeezy and Ludacris to join the national political debate as leaders of the new school of Hip-Hop, not to mention southerners with a listening audience in the millions? That could turn into votes one day, which could turn colors like Georgia Red to Obama Blue.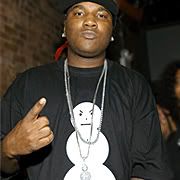 Or will we see something that nobody expects but everybody knows is possible: President Obama will openly repudiate the culture of gangster rap and promote creative arts without graphic sexual, violent, racially insensitive or just brutally obscene language? Will the first black presidency be the first bullet in the heart of Street-Hop? Or will President-Elect Obama continue to see our Hip-Hop movement as irreverently relevant rebel music?
I'm pretty sure that we should get ready for certain rappers to be avoided full-time by the White House and the Democratic Party now that it's all over, while others will be promoted vigorously. Don't be surprised if Obama has more White House concerts and public events with Bob Dylan and Bruce Springsteen on the stage than Jay-Z and Puffy; let's just admit that for right now, there's nothing wrong with that. Let's allow the dust to settle and the emotions to calm for now and let our man Barack tell us his preference of mood music. Just because he might prefer Anita Baker and Maxwell to Keyshia Cole and Lil' Wayne doesn't mean that he will let himself to be used to destroy the force that provided the strongest push for his new position of power.
I think that Obama's true feelings about rap music and Hip-Hop culture will come out in the next four years and we can't expect him to say all positive things, especially if we continue to allow certain artists to keep popping champagne bottles, making money rain from the sky during a savage recession, retelling stale drug war stories and pimping those beautiful black women they adore enough to call "bitches" over mechanical, uninspired beats and melodies. I wouldn't expect it this year, but you know it's coming. And how will we respond?
Time to grow up, Hip-Hop. We've got one of our own behind the big microphone now. Let the man lead and don't bump the turntables while you're trying to get noticed by the cameras doing the Cupid Shuffle at the inauguration. And please don't shoot up the party if you aren't on the guest list. You already know what they'll say about us the next day on Fox News.