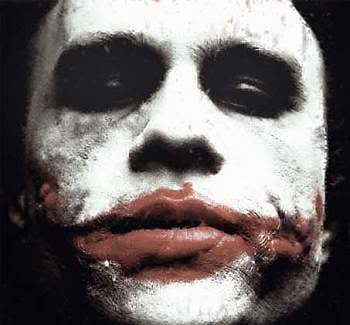 Dearly beheaded, we are gathered here today to get through this thing called "death." Electrocuting word, "death", it means expire, and that's a mighty harsh term but I'm here to tell you… there's something else.
THE UNDERWRITER.
In this episode, we celebrate the life and mourn
THE DEATH OF HEATH LEDGER
. A fine actor (nolo) who was almost an Academy Award winner, until the bosses at the Oscars remembered that he played a bisexual cowboy. And I thought Hollywood was nothing near no-homo status. Guess I got learnt.
I had been looking forward to seeing
The Dark Knight
, which is the newest movie in the Batman film legacy, due to be released this summer. Shit looks dope. See the You-Tubery below and make your own conclusion as to how N.W.A. this movie is going to be…
Besides all that, I have to admit that
The Dark Knight
will inevitably become a cult classic, now that the main villain was found naked and dead, sprinkled with prescription pills, in Mary Kate Olsen's apartment. Weird. Brings to mind another celebrity who died before the release of a highly anticipated film…
Maybe the moral of this story relates to the old warning that everyone heard as a child. Don't ride in wheelchairs if you don't want to be paralyzed. Don't walk on crutches unless you want karma to come through and break your ankles on some
Misery
shit. And don't wear makeup of an unnaturally-stretched evil smile in a major motion picture, unless you're ready to die.
Or maybe the message is simpler: Don't get naked and take too many pills at Mary Kate Olsen's old apartment. You might wake up gone.
R.I.P., Heath. See you in the movies.