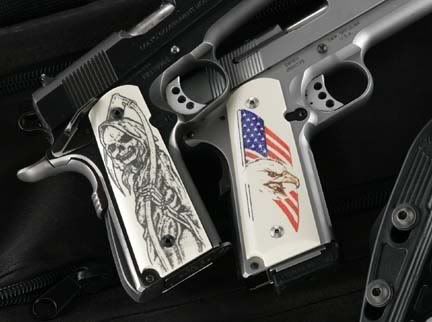 If you actually know who UNCLE MURDA is, because most people probably don't, you qualify to receive a coupon for a FREE McDEATH BURGER at your local hood McDonalds, just for being able to prove that you were aware of the backstory before this post.
Ba-da-bap-ba-baa!!
Just leave a comment with your government name, social security number, telephone, email and physical address. I promise not to give this info to my telemarketing staff or Blackwater USA.
*DISCLAIMER* This offer may not be applicable at all any McDonalds in the world.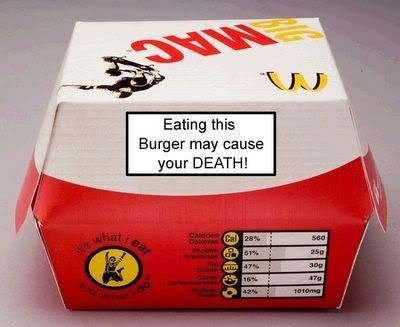 Moving on, there exists (maybe temporarily) a rapper named Uncle Murda, who represents East New York. He's gully, ganster, hard, brolic, thuggy--a vertitable tough guy. And he's signed to Roc-A-Fella Records, the label owned by
Damon Dash, Kareem Burke and
Shawn Carter, a.k.a. Jay-Z. I guess that the Jiggaman needed a roughneck figure to solidify his label roster, especially since he's got Kanye West repping for the emos.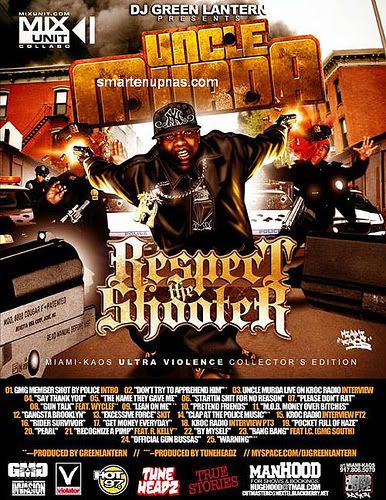 What THE UNDERWRITER doesn't like about Uncle Murder's thug life coonery is that, for some reason, my man seems to take being shot in the head as a misfired joke. Peep the quote from ALLHIPHOP's exclusive interview with U.M.:
"If anybody, I think it may have been the NYPD. But who it ever was that did it, they missed because I didn't even know I was hit. One of my crew told me that my face was bleeding and took me to the hospital. They said I still have a bullet in my head and if I am sexually active it will fall out [laughs]."
It was also reported all over the web that Uncle Murda is
NURSING HIS PAIN WITH HENNESSY AND NEWPORTS
. Far be it from my authority to say that cognac and nicotene can't be sufficient in terms of numbing the nerves. But this is, after all, a head wound. A doctor might have a better way, but who am I to say that a thug can't self-medicate?
But at least I now know that this is how a "real" gangster rapper responds to a "Bullet-Bullet" to the dome. Good. I love it when thugs laugh at being shot, thinking that death is a game that they can win. It only makes it funnier when I'm forced to report his obituary two weeks before his album drops, two days after never.
Just for extra emph, here's a poignant, poetic and creative rap song, in video form, by the artist known as Uncle Murda. Pay attention; it may be a subliminal cry for help. Let's pray that he avoids this blog in the future.
"In the Bible I read, 'Death is of the tongue / and if you talk about death enough, death is gon' come.'"
50 Cent - "Shot Down" feat. DMX