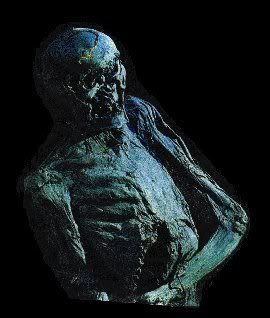 Weezy F. Baby Carter, the self-proclaimed "best rapper alive", just might also be the most geeked up. At least his lips are sealed, as this image suggests. Or maybe it's just the teeth clenching that has his mouth on clack-clack...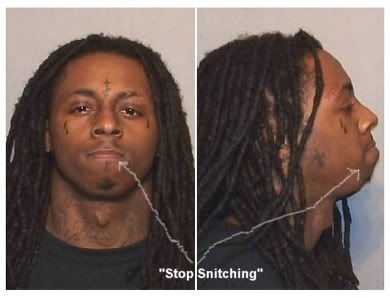 The Alphabet Boyz of Phoenix, Ariz., recently had the opportunity to join in a Cash Money/Young Money Records cypher, and found more than enough for a bus full of buffoons. Courtesy of ALLHIPHOP, here's the story of Weezy's stash game:
"The K-9 Unit found multiple types of drugs, as well as currency, and firearms," DEA spokeswoman Ramona Sanchez told AllHipHop.com. "One of the firearms, a .44 caliber pistol was registered to Mr. Carter. He did have a concealed weapon permit from Florida, but we are investigating whether it violates any Arizona laws."

Sanchez added that the K-9 Unit recovered 105 grams of marijuana (3.7 ounces), almost 29 grams of cocaine (1.02 ounces), 41 grams of Ecstasy (1.05 ounces) and $22,000 dollars in cash.

"The two other individuals were charged with possession of marijuana," Sanchez said. "Mr. Carter was charged with possession of the cocaine and ecstasy, and possession of miscellaneous paraphernalia."
The mind wonders if Weezy had visited DMX's house while riding through the Southwest. If not to cop, at least to share. Lord knows that The Dog has been acting a little funny lately...
It's bad enough that everybody's assumption ended up being gospel--Ike Turner died because he was on what Martin Lawrence once called "that
OOH-WEEE
". And rumors abound that we will all find out that Pimp-C was doing something he shouldn't have been when he was found deceased in a hotel suite. We'll find out soon enough...
Lil' Wayne used to call out his former Hot Boy brother B.G. for being a washed up drug addict, back when the group first severed their ties. And any fan of southern rap music knows the history of B-Gizzle. Now that Blender Magazine has predicted that
HE'LL DIE AT AGE 44
, one must consider whether or not Wayne has been lured into the same path as his former rhyme partner or is actually a product of his environment that deserves some legal leniency.
Look at it this way. This is a guy whose home city was washed away. He probably knew dozens of the dead from Hurricane Katrina. Right now, he may be running off of a survival instinct that says, "Eff the world, Wizzle. You've gotta just keep smoking that kush, drinking that lean, popping those Es and sniffing that yay. Keep yourself in a comfortable state of mind, and don't look back, or you'll turn to dust..."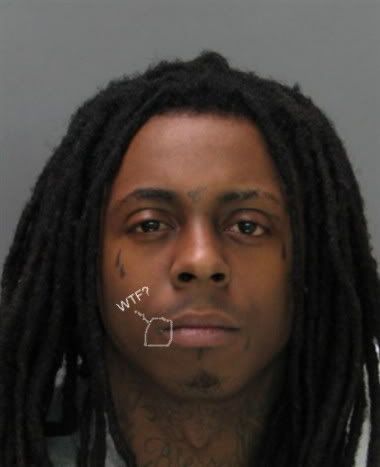 His homie Juelz Santana may not be the best influence right now, considering the following picture from XXL's "A History of Cocaine Rap" story from December 2006...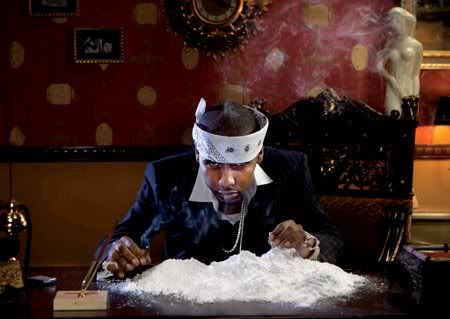 Who cares. If these dudes can afford gaudy jewelry and enough powder to cover a continent of baby asses, they can surely afford Tom Mesereau or another high-powered lawyer. Or they can just keep numbing themselves to reality and rapping about cars that they can't really afford, jewelry that makes them robbery/extortion targets and habits that keep the Feds taking pictures.
Come on rappers; smile for the camera!! Cocaine is a helluva drug!!