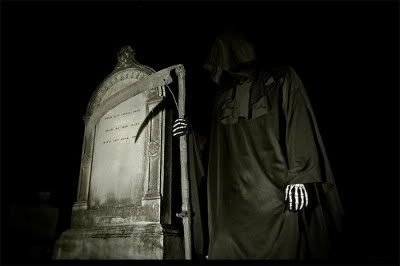 In case you're somewhat new to this seventh layer of Hell, which I like to call, "The Underworld," you may not know that I keep track of who passes on, or in the funny cases, who kicks the proverbial bucket, from time to time. I mean, you'd think that a guy who calls his ink pen a "scythe" (and kills the competition) would at least keep an accurate account of who gets bodied along the way. Well, my weird friends, here is the bad news that you can depend upon me to deliver. In this case, we have one loser and two people who I don't think deserved their death sentences. But then again, I'm not God. Do me a favor, and please, pay your respects.
CAREER-DEAD/LEGALLY-DEAD (The Funny Part):
RAS-KASS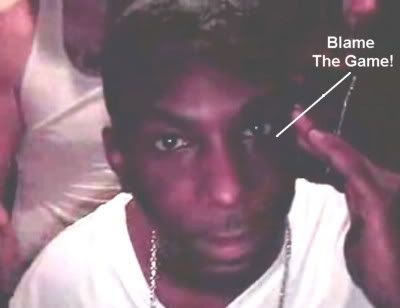 I'm sorry, but this dude is a f*cking idiot. This same guy
BECAME A FUGITIVE
years ago, while putting out mixtapes against his label, Priority Records. As if they were the reason why the law wanted him. I'm sorry again, but po-po doesn't come after you for not releasing an album within the time limit of your recording contract. You've obviously broken a bigger rule than that.
So he goes on the lam, either gets caught or turns himself in (I don't care enough to research it), and does a couple years or so. Comes out claiming to be "The King of L.A." As if Snoop wasn't still around. As if The Game wasn't responsible for bringing the first multi-platinum plaque back to L.A. in years. As if Ice Cube wasn't still selling gold – independently. Cube made more money off of one independent album than Ras-Kass probably received his whole career in label advance money. Which is, of course, recoupable (look it up). If you remember, Game was upset enough at some of Ras-Kass's rhymes that he gave Kass a black eye, to match his black revolutionary disposition, I guess. Oh, the irony.
Now, according to Illseed, Ras-Kass is in the first few months of a three-year bidsky for who cares what. As in, right now, while I'm typing and drinking beer, he's in jail. But if dude really thinks he can even start that, "I'm the king," dewshery again, when he gets out in 2011, he'll automatically earn one title: The Dumbest Rapper Alive. God knows, I don't want to see another rapper jailed, but - word to Lupe Fiaschoe – a good vocabulary doesn't always mean that you're smart.
REALLY DEAD (No Humor Intended):
Static from Playa and Juvenile's DaughterSTATIC: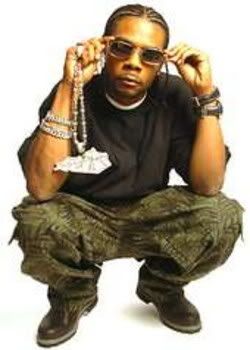 Do you know that Static was one of the best songwriters alive when he passed? Here's what
HIP-HOP ELEMENTS
said about his passing:
Among the major hits Static wrote lyrics for are Aaliyah's "Are You That Somebody" and "Try Again"; Ginuwine's "So Anxious" and "Pony"; Nas and Ginuwine's "You Owe Me"; Pretty Ricky's "On the Hotline" and Truth Hurts' "Addictive."
Let me take it a step further. He also wrote "We Need a Resolution," "Rock the Boat", "More Than a Woman," "Same Ol' G" by Ginuwine, and one of my favorite songs that you've never heard, "Joy," which was on Timbaland & Magoo's first album. When I tell you that song is the truth, you should not only believe me; you should either go buy the album or download it. Trust me, the track is hard to find. But if you're interested in finding out about even more songs he wrote that you might love,
CHECK THIS SITE
.
This is one of those stories that I find a little depressing, because dude was the serious truth. He could rap, sing and write, and I always told people that he was dope, even though I liked the fact that I knew something that other's didn't. Selfishness… yuck. He was probably one hit away from being a star in his own rite. Now, he's gone, because of something nobody saw coming. R.I.P., Static. Cheers 2 U. At least it's better than a bullet…
JELANI DELESTON - JUVENILE'S DAUGHTER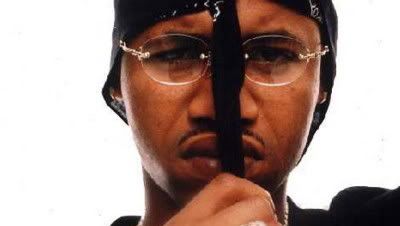 This one is… man. Four years old. Yo, I can barely even speak on it, because I have no idea how to comprehend it, how to cope with if I were a father, or how it could happen in the first place. Basically, Juvenile's daughter – yes,
that
Juvenile –
WAS KILLED
by her older half-brother. He also killed his mother and another sibling.
When this type of tragic shit happens, it makes you wish you had the power to keep people from suffering in the first place. Then again, that might be vanity, which is a deadly sin. Let's just pray that Jelani is beyond the trials of this life, and is now freer than anyone on Earth - laughing and enjoying eternity, while waiting for us to join her and everyone else whose spirit was true enough to cross over into Nirvana while still somewhat innocent.
They say the good die young...
"This ain't funny, so don't you dare laugh." – Slick Rick